How Should I Deodorize Hidden Structural Component Fire Damage In My Myrtle Grove Home?
5/6/2020 (Permalink)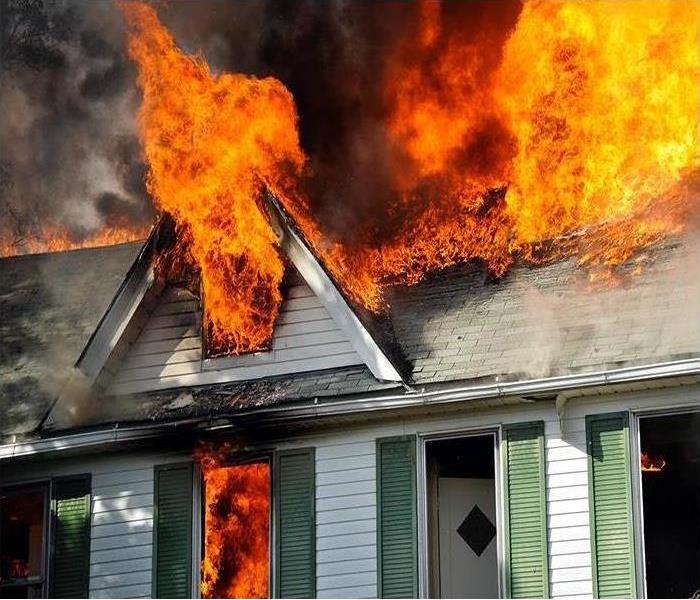 As the fire burned, the superheated air rose and perhaps penetrated deeply into these types of materials.
SERVPRO Uses Best Practices to Remove Odors After A Hidden Structural Component Fires
If your home continues to smell smoky even after initial deodorization post-fire damage steps are taken, SERVPRO staff may need to investigate more thoroughly where hidden pockets of odor bearing materials or residues may be hiding. Houses with attics or storage areas between the uppermost ceiling and the roof may hold the key to the persistent odor within the insulation or even the rafters of the dwelling. As the fire burned, the superheated air rose and perhaps penetrated deeply into these types of materials. Ordinarily, these recesses are rarely viewed or explored, but if they hold the source of the unpleasant smoke smell, they will need to be cleaned and treated with appropriate products by our certified technicians to complete a thorough fire damage restoration.
Fire damage remediation within your Myrtle Grove attic may require smoke contaminated insulation to be removed and discarded to eliminate the smoke odors. It may be possible to reduce the smell by ventilating the attic or crawl space and treating the insulation in place. We will review the deodorizers available and apply to the insulation if it appears the smoke damage is limited to the surface of roll or foam insulation. A clean layer of new insulation may do the trick of blocking fire odors if it is placed over the existing blanketing. Thermal fogging of the attic or crawl space done at this point can also reduce odors.
If the rafters have sustained fire damage, they first need to be inspected for safety and the capacity to continue providing structural integrity for your home. SERVPRO technicians will evaluate the sustainability of the wooden structure just below the roofline. If charring and residues are present but are not profound enough to require removal of the rafters, scraping and brushing the debris off can help reduce odors. Liquid or spray deodorizers may take care of lingering smells. Tough odors may dissipate if the surface fire damage is removed and the area sealed. We usually recommend the same sealant used in HVAC systems that harbor smoke odors.
The professionals at SERVPRO of West Pensacola will not rest until all evidence of fire damage is removed from your home, including odors. Call (850) 469-1160 to get a fire damage and odor elimination plan designed today.
Learn more about Myrtle Grove.